Avoiding closed spaces is one of the "Three Cs" monitored by uHoo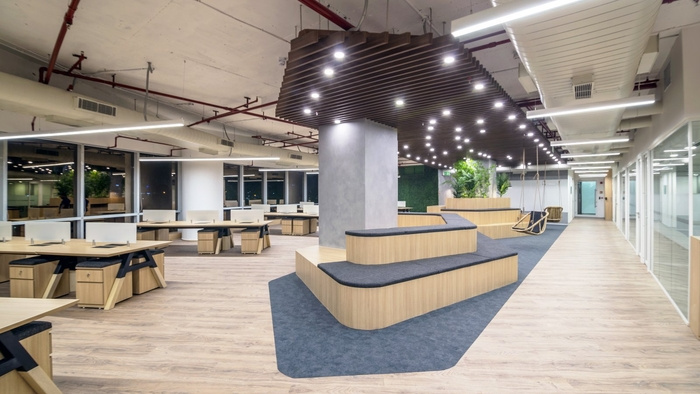 (As released in https://prtimes.jp) Nomura Research Institute (NRI) has announced a digital solution called"3Cs + heat generation detection" as a countermeasure against the new coronavirus. With this solution, the real-time air monitoring device called uHoo, distributed in Japan by Focal Point, is used to prevent room "sealing." We interviewed Mr. Junichi Watanabe and Mr. Atsushi Kametsu of the DX Production Innovation Headquarters and Mr. Yasuhiko Hirose of the Corporate Communications Department about the background of the introduction of uHoo and future prospects.
Background
At our company (Nomura Research Institute) we have been paying attention to the relationship between health and CO2 concentrations in the office even before the new coronavirus outbreak. When you hold meetings in a poorly ventilated space, you may experience a headache. Although I was aware of this issue, there was no concrete evidence in our office to back it up. In order to protect visiting customers and company employees due to changes in lifestyle caused by the new coronavirus, we launched a plan for"3Cs + heat generation detection" which is achieved by precisely measuring CO2.
Web dashboard and API integration
There are many CO2 sensors and IoT-compatible devices that have been released by various companies. We compared and evaluated each device, but basically, those devices were aimed at consumers and it was difficult to find one that could meet corporate needs. Another major issue was the ability to provide a stable supply of devices for large-scale installation projects.
We found that the uHoo device distributed by Focal Point conforms to Japanese technical standards and it has a business account function for corporations that would like to use multiple devices. The data from dashboards and APIs can be managed on a web browser. The fact that it meets the needs of our company was a major point for choosing uHoo.
As for "3Cs," we have introduced an AI camera for close measurements, a Bluetooth tag for measurements against congestion, and the air quality sensor uHoo for measurements against sealing. All of these combined with a thermal camera for heat generation detection create a digital solution for "3Cs + heat generation detection."
The change in CO2 was beyond imagination
Measured in detail, the points in the transition of air quality in each conference room was great. Facility management, which has been performed on a floor-by-floor basis, can now be managed more accurately.
At our company, a uHoo device has been installed in each conference room and is linked to smart speakers. When CO2 level rises above a certain value, we have customized it so that the participants in the conference are notified and urged to ventilate the room on the spot.
When I introduced it, it was actually a big discovery that the CO2 concentrations were higher than I had imagined. Under the Building Hygiene Management Law, we are obliged to measure the air environment inside the building on a regular basis, and I hear that ventilation simulation is performed when designing the building. Therefore, it was a surprise to us that the CO2 values fluctuated so dramatically. The construction industry also has an interest in this technology.
About the introduction
When it was first introduced, there were some disconnections from the Wi-Fi network, but that was improved by customizing the Wi-Fi channel settings. Initially, IFTTT was used to link with smart speakers, but it became necessary to link with multiple devices such as AI cameras, so we switched to data linking using the uHoo API.
Currently, the system is deployed in each conference room at the Tokyo Headquarters, Yokohama General Center, Yokohama Development Center, Kiba General Center and Osaka General Center.
Future outlook
uHoo also has a PM2.5 measurement function, which I find useful when measuring office air quality from multiple perspectives. We are exploring specific ways to utilize the virus index function, which displays the viability of a virus as an index.
Currently, we are focused on CO2, but I hope that we can effectively utilize other air quality measurements as well.
Nomura Research Institute will continue to contribute to improving corporate value in terms of health and security through the promotion of IoT in offices and air quality management.
Book a Meeting
Interested in bringing uHoo to your office?
Get in Touch with us Today!
Thank you!
We have received your message and we will get in touch with you shortly.