The importance of air quality in battling COVID-19
COVID-19 has forced people around the world to stay indoors. Good indoor air quality is now paramount for your own healthy and well-being.
Research has proven the correlation between air quality and the coronavirus. Utilizing air quality data within your home and workplace allows you to create the best possible environment to deactivate viruses.
With uHoo, you'll be able to do exactly that – make better decisions about your health with the help of accurate air quality data.
How the uHoo Virus Index works
The uHoo Virus Index uses air quality data to provide you with actionable insights and tips to reduce virus risk. It is presented in an easy to understand score from 1 to 10.
1 to 3
Virus survival is low and the virus spreading in the air is unlikely.
4 to 6
Virus survival is moderate and the virus spreading in the air is possible but air quality poses little to almost no direct health risk for people who are usually not sensitive to air pollution. Sensitive people may experience health effects. More attention to air quality should be given and actions to improve air quality is recommended.
7 to 8
Virus survival is prolonged and likelihood of the virus spreading in the air is higher. Air quality poses some health risk. Critical assessment of your air quality is necessary and actions to improve air quality is required.
9 to 10
Virus survival is high and the virus spreading in the air is likely. Air quality would affect most people and actions to improve air quality is necessary.
The uHoo Virus Index Matters
By making the invisible visible, you'll know exactly how you fare and what actions to take for the health and safety of everyone around you.
[October 2021]
Addressing the Airborne Transmission Threat: Understanding
the Component of Air Quality
[May 2020]
Using Indoor Air Quality Data to Create the uHoo Virus Index
A worthy investment to know what you're breathing!
As someone who has lung issues, it's nice to have something that gives me detailed views of what I'm breathing. With the Covid pandemic still firmly in place, we are spending much more time in our homes than ever before. Scientists have warned us for a long time that indoor air quality can actually be worse than outdoor air, and especially now, we need to be aware of what we are breathing indoors.

AtlantaGreg
Best Buy Verified Purchase
Best Air Quality Sensor on the Market!
Works like a charm. There are not many systems like this one on the market. It takes a day to calibrate but once it's done you'll definitely notice if you have air quality issues. I highly recommend this for those with asthma or allergy issues and those who want to prevent it. Knowledge is power!

allergyguy
Lowe's Verified Purchase
A must if you care about indoor air quality
I want to say right up front, as an HVAC contractor, I think that every home needs one of these. Especially if you have natural gas or propane appliances in your home. This includes a furnace, water heater, fireplace, wall-mounted or freestanding gas heater stove, cooktop or oven. Kerosene heaters too. It could save your life.

MrLowNotes
Best Buy Verified Purchase
This device saved my dads life!
So for the past year, my dad has been feeling soar through dizzy nauseous. He spent thousands of dollars on air cleaners trying to remove dust as he thought he had allergies. When nothing worked we hooked the device up it immediately indicated CO2 levels were at almost 1900 parts per million. He was suffering from CO2 poisoning. I strongly recommend this device.

Brandon Tipton
Amazon Verified Purchase
I love the ability to track VOCs and CO2 alongside PM. I bought this for a more comprehensive indoor quality monitor than have my Dylos Pro which only measures PM. The measurements in the app are easy enough to understand once it's fully installed. uHoo customer service responded within 24 hours when I emailed them from the app.

GT
Amazon Verified Purchase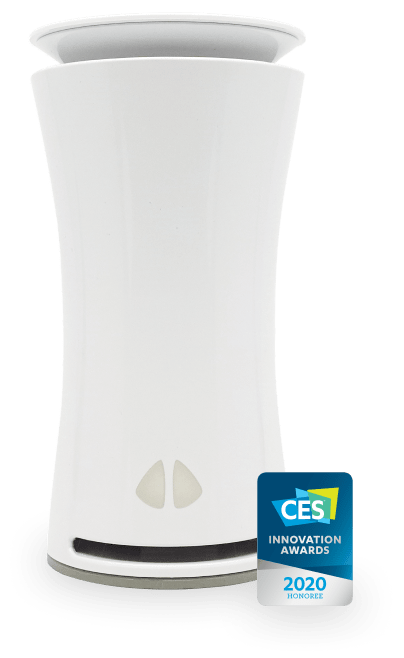 Improve your health and well-being with
the most advanced indoor air quality
sensor.
COMPATIBLE WITH IOS AND ANDROID
- See the air you breathe
- Know how safe your home is from viruses
- Get alerts and notifications sent to your phone
- Track your progress in creating a healthier home
- Comes with 1-year warranty