Access your Data from a Web Portal
Enjoy easier navigation and better visual comfort with the uHoo Premium dashboard that you can view on your laptop or desktop.
It's automatic
Let uHoo connect and work with your other smart home devices for a concerted approach to cleaner and healthier air, without having to think about it.
Technical Specifications
Security
128-bit AES end-to-end encryption
Body Material
ABS thermoplastic polymer
Processor
32-bit ARM-based
Base Material
Silicone rubber with stainless steel insert
User interfaces
Native iOS and Android apps
Certifications
FCC, CE, PSE, TELEC, NTC, KC, REACH, RoHS
Operating Temperature
-10°C to 50°C (14°F to 122°F)
Power Consumption
900mW (normal operation) and 1.5W (data transmission)
Operating Humidity
0% to 100% non-condensing
Dimensions
Height: 161mm or 6.3 inches
Diameter: 85mm or 3.3 inches
Shipping Size
25cm x 12.5cm x 8.2cm
Shipping Weight
0.75 kg or 1.65 lbs
Wi-Fi Network
802.11 b/g/n @ 2.4GHz with WPA2-Personal security
Dedicated 5GHz Wi-Fi network and Enterprise security not supported
Power Supply
5V/2A USB adapter and cable (provided by uHoo)
Interface
Smartphone or tablet
iOS 11 (64-bit devices) or Android 4.2 and above
Software
Free uHoo mobile app
Free uHoo account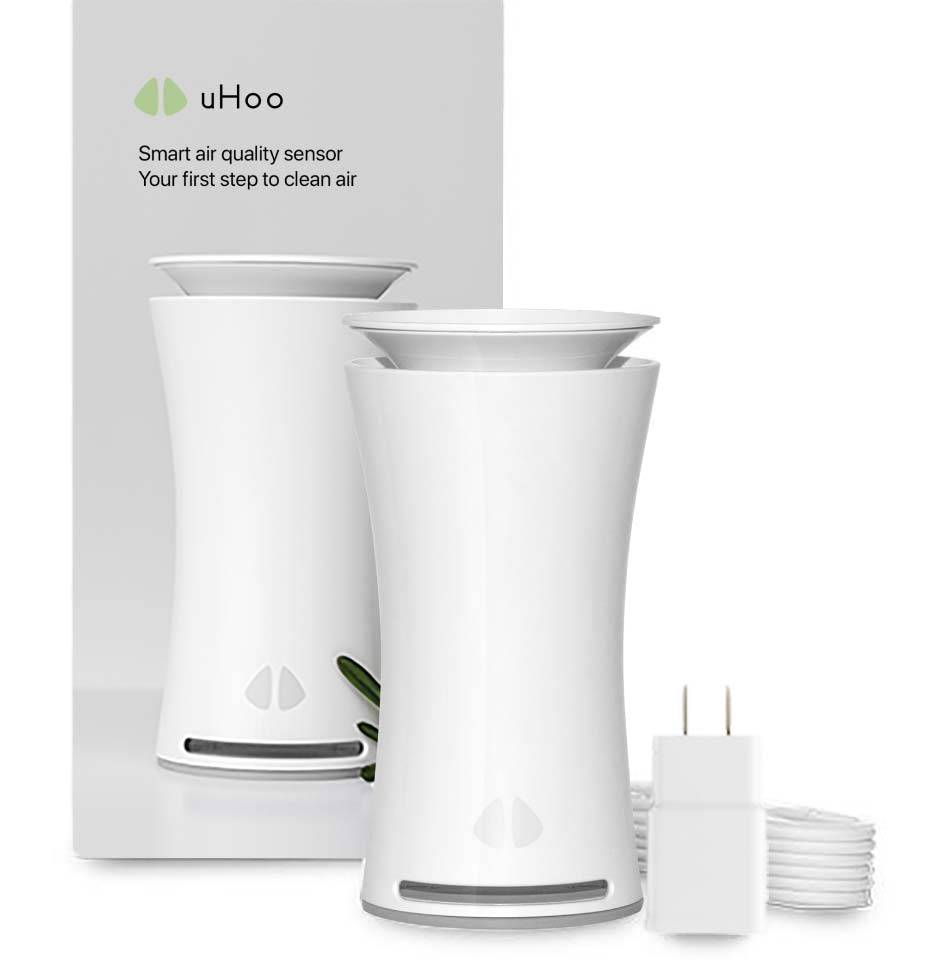 Each box comes neatly packed with the following items:
uHoo unit
Micro USB cable
Country-specific power adapter
Shipments to Australia and New Zealand will receive UK adapters
±50 ppm or ±3% of reading*
±15 µg/m3 or ±10% of reading*
±10 ppb or ±5% of reading*
±2 ppm or ±5% of reading*
Airborne Chemicals (VOCs)
±10 ppb or ±5% of reading*
±10 ppb or ±5% of reading*
*Choose higher of the two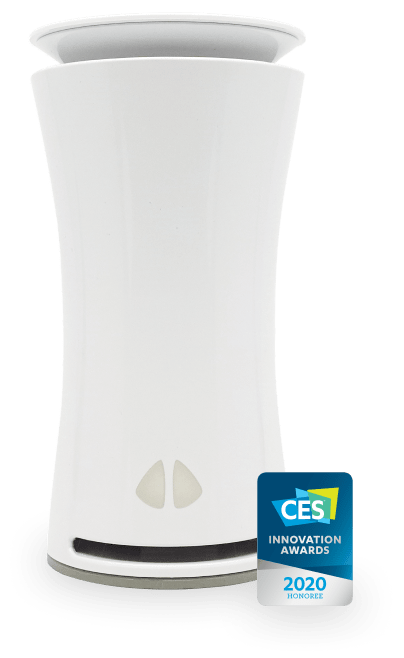 Improve your health and well-being with
the most advanced indoor air quality
sensor.
COMPATIBLE WITH IOS AND ANDROID
- See the air you breathe
- Know how safe your home is from viruses
- Get alerts and notifications sent to your phone
- Track your progress in creating a healthier home
- Comes with 1-year warranty